Golden Princess

June 16, 2002-February 22, 2014
She is with her Cù, but our hearts ache.
Updated 2014

With Scolaighe ill, we had been hesitant to get a new hound, even more so when we lost Bran because it took awhile to feel ready after the loss. As Scolaighe got sicker, we feared a new hound wouldn't be able to comprehend what was wrong with her, might react badly and that she, with her lack of "space awareness" might end up invading the new hound's space and the hound might snap. There was also concern with Gleann's apparent defensiveness with strange dogs, that might be a problem too. However, with Scolaighe a bit less mobile without help, Gleann having shined when friends brought their dog visiting (and greeting outside, with the strange dog entering the house first and Gleann following back in) and Aaron's job change (from a full-time shit job to part-time EMT), we felt it was time. And, I think, we were also being called to get the right hound waiting for a home.

So, I emailed Michele at Greyhound Placement Service and asked if she had a loser for us. Of course, there were were several, she said. As we didn't want to drag Scolaighe down to Goffstown and I work nights, I stayed home with her and Gleann and Aaron drove down to meet the potential hounds and bring one home. He met a pretty, calm girl named Prevo as well as a couple of big, handsome males and decided that she seemed to be the one who would accept the strangeness the best and he felt the boys might be too rambunctious.
She breaks our "black pack" status (even Irony had quite a bit of black in her brindle), but her golden color is beautiful, so we renamed her Òrlaith "golden princess." She's 7 years old and is a bounce (was adopted and returned) like our other girls. She gets along beautifully with Gleann and Scolaighe, not even blinking, let alone snapping, when Scolaighe did sort of land on her. She is very sweet, but is also very reclusive.
After the first few nights lying in the living room most of the time, and after a bit too adventurous walk when trees fell on the power line after we left the driveway and blocked out way home (she stayed with the neighbors down the road, while Gleann and Kym headed home through the woods to make sure Aaron didn't wander to the road looking for us when we were gone too long…Scolaighe slept through this), she discovered the dog bed in the bedroom, neatly tucked into a denlike corner. And now she lives there. She seems content there whether we're in there or not, not wanting to stay out in the too-bright or too-noisy main living area. We coax her out a bit, but she doesn't stay long and we're not pushing. It does seem this was part of why she bounced, although it was her crate she hid in before, but we'll keep making sure she know she's welcome to hang out with us in the living room too, if she wants, but if she doesn't that's fine too. She does still love walks, despite that little adventure.
Later she took to burrowing under the couch cushions and spent much of her first year under them. Or blankets. Oddly, when up and about, she's boisterous and friendly, often putting the boys in their place by a good body slam. When sleeping she spent a long time wanting to be completely covered. Especially when windy. We got her a ThunderShirt which helped some, she then spent more time just under blankets rather than cushions.
Over time this need slacked and she spent more time unburied and snuggling us. Or the other dogs.
Update 2014
Following Cù's death, we had three broken hearts besides our own to comfort. Òrlaith became even more cuddly, a down right Velcro-hound. We began walking her with Gleann and Sach out around the pond. A bit rough out there but easier than near the road where we'd need to have the crazy boys leashed as well. She loved the coywolf, deer and other wild animal smells and seemed to really enjoy these walks. In the house, she would often snuggle us or the boys.
If you do the math, you'll see that all our Greyhounds died during their 11th year, except for Cù who didn't quite make it. This has started to feel like a curse, to be honest. But I sort of hoped that there'd be a trade off having lost Cù soon, that Òrlaith would be with us at least a bit longer, maybe quite a bit longer…perhaps the curse could be broken even if sadly it was with it being early first. But it wasn't to happen.
On Thanksgiving, while Aaron was working, when I brushed Òrlaith's teeth before bed she bled. Quite a bit! I noticed a slight swelling. I was a bit panicky, given the holiday about what I thought was an infected tooth. And upset that by our vet's (at the time), we had not insisted on a dental, especially while we had been trying to care for Cù. We got her to an emergency vet, as ours (at the time) refused to see us. They did determine it was an infection and gave us antibiotics with the plan to call if they didn't work in 10 days. And they didn't, it got worse. We tried another vet, who diagnosed her with bone cancer, giving her three or four weeks to live. We went to yet another vet, one we now wish we had found back when we were trying to help Cù, who confirmed the cancer but gave no "expiration date."
She was the first of our Greys to have osteosarcoma, which is often thought to be very common in the breed. There was the option to have her jaw amputated, replaced with a prosthetic and then put her through chemo. The idea was rather horrifying to both of us. If she had developed this in her leg we probably wouldn't have hesitated to have it amputated. But we just couldn't imagine putting an 11 year old hound through something which would have to be so very painful and problematic (food, you know, food being a very central part of anyone's life, let alone a HOUND's) then making her sick with the chemo.
We opted instead to try a wide variety of herbs, with the advice and support of our new vet (Bethel Animal Hospital). We had a strict schedule, as some herbs
needed an empty stomach, others with food, some with no iron for several ours, some with iron… I spent almost every moment with her. We weathered a few too many miracle stories which after the hope we'd had for Cù was difficult to handle. We didn't expect miracles, we just wanted more time to spoil her. And the herbs also allowed us to spoil her as all were given the guise of treats (tea mixed with bone broth, pills in cream cheese..). She made it past the other vet's "expiration date" and into the new year. And then another month.
Being winter, she was coped up inside, never being real big on going out during this season. But on warmer days we'd take her out and she would seem to enjoy it just as much as she had in the fall. And inside she was snuggled almost constantly by at least one of us and usually a fluffy puppy as well. I was writing a good deal, including a project about canines, so she helped as a muse while I snuggled with her. She was able to eat, despite the now more slowly growing tumor. We have to admit, she started getting a bit plump.
Until near the end of February, when it was clearly uncomfortable for her. She was eating but seemed less enthusiastic. We realized it was time.
Òrlaith was a spectacular hound, utterly gorgeous, smart and loving. A true bitch in all the best ways, keeping her boys in line and ruling them with love. I wish, as always, that we had more time. I wrote more about losing her on our blog.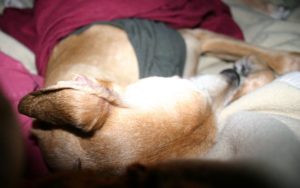 Contents and design, except where noted otherwise below, copyright © 1998-2014 Saigh Kym Lambert and Aaron Miller