Me at five on my sister's pony, Snowfire…already at home on horseback, maybe more so than any time after.
Horses have been as much a part of my life and growth as dogs have been. I was sat upon a horse long before I could
walk, my family had horses long before they had me. My first pony was a red sorrel Shetland named Lucky, then there was one named Samantha which was more a family pony than my own and Snowfire who were owned by my sister both of which I rode on occasion. I later road my father's Tennessee Walker/Morgan cross 'Rocco, who was a lovely gentleman and taught me a great deal more about riding than any person or other horse. I can't find one picture of me riding him though. ~:(
Pran was my first horse of my own. I fell in love with him when he was just a foal, and he apparently imprinted on me (but we knew nothing about imprinting foals back then) and followed me everywhere. He would have made a great dog, very loving on the ground but rather a rogue under saddle due to mistreatment by my foster brother (who mistreated many, so he wasn' t my foster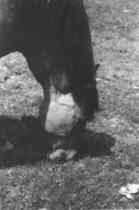 brother for long, thank the Gods and my parents). He was a rearer, perhaps the worst vice a horse can have…it took me years to find a way to overcome it, but we finally did thanks to a "passive" device that you can see in the picture of down the page). He was half Morgan and half Appaloosa, a perfect buckskin with no white (well, there were about 3 white hairs on his forehead) and strong dun markings. I lost him when I was in my early twenties to a very bad founder (laminitis), his third time. He would break fences, hurt himself in stalls, anything to get to something to eat. He was not the easiest horse in the world, but I think that because of that he helped be grow a lot.
For several years I took care of Midnight, another Morgan/Appy cross gelding, and Trouble/Candy, his full blooded Appy half sister (unmarked). Midnight had been a runaway when I started working with him but after a very short time he became one of the best trail horses that I have ever known, he might try to "race" if you loped/cantered him with another horse but he had learned to give and never bolted out of fear. He was as truly "bombproof" as a
horse could be, nothing phased him. If he did get startled by something he would freeze and wait for orders. You could get him to approach anything strange, he had that much trust. He acted like he thought that trail riding was one of the greatest things in the world, was always ready to go. Trouble earned her name during her training, she had a rather bad attitude compared to Midnight and so was a bit more work, but a beauty and she had much nicer gaits. She became a good horse for guests, with her biggest vice being stopping and testing to see if the new rider could bring themselves to make her go forward. Midnight and Trouble actually belonged to my brother, who sold them for slaughter, shortly after I moved despite what I had thought was an understanding that if he didn't want to care for them I'd quit my job and move back. I have been devastated by this and it has taken me a long time to consider being around horses again.
| | |
| --- | --- |
| Me on Pran, I am about 16 or 17 here…doesn't he look thrilled? | Me on Midnight when I'm probably around 20 and again when I'm around 30 |
My mom's Morgan stallion Letterman, one of the few times I rode him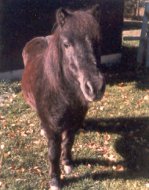 Phoenix was a Shetland pony who we found starving to death, when I was in my late teens, with rockers for hooves, and a halter that his face had actually grown around! And he was not a youngster when we found him, he was fairly advanced in age, but due to his condition we were never sure how old. He never developed much bodywise, even with a lot of good food, but his attitude turned fiery after he started feeling better. He lived out his days with us, just hanging out on pasture, hating all humans and most horses. The exception being my mother's Lippitt Morgan stallion Letterman, who he befriended mutually. I guess this makes him my first rescue. He now has his own page.
End All Horse
Slaughter NOW!
Contents and design, except where noted otherwise, copyright © 2000-2003 Kym Lambert