My heart's in the Highlands, my heart is not here
My heart's in the Highlands, a-chasing the deer
Robert Burns
The Beasts of Dùn Sgàthan now have a Facebook page
Well they may chase the deer in their hearts, but no luck in reality.  Their chasing is limited to "bunnies" and only non-living ones at that, plastic bags on a lure-pole…we are now too far from any LGRA events to attend.  Some long to chase the the fluffy long tailed ones  (cats and squirrels)  but are not allowed to those any more than the deer…or even the real hare that they occasionally see while on walks now that they are in the wilderness.
Canines have an ancient history connected to warriorship including in the Gaelic cultures. Much of Saigh's work is around this bond, around canid shape-shifting as well. Scáth na Feannóige is about the work on this. Our pack is, really, a part of this work. It is difficult to do it without sharing ones life with these beasts that the Fíanna lived with and Greyhounds are the very one that they did.
The Pack
We  adopted Irony on June 18, '98 from Greyhound Placement Service NH
after a long canineless wait.  To check out her story and more pictures click on her picture or her name. After all, the whole webpage you are on started because of her. We lost her to liver disease on August 18, 04 and will miss her always, but feel like she looks after our pack.
On Feb 6 ,'99 we brought Bran from GPS to foster with us. Well, it didn't
work out….because on May 12 we drove back to GPS and signed the adoption papers!   We lost him suddenly in March of 2008, exactly one year to the day that we lost our horse Saoradh.
Since moving to Colebrook NH we are no longer involved in LGRA or SCA coursing, which you will see mentioned on their pages. We also aren't really doing much in the way of "meet and greet" either, but keep looking for
possible venues up here.
On March 22, 2003 we finally made another trip to Goffstown and adopted Scolaighe. She was a wonderful addition, mellow and cuddly. She became ill several years ago, something causing her brain to swell, but remained lovey and cuddly so we cared for her while she seemed to be happy until it was time to say good-bye in December of 2009.
In July of 2004 we parted from our hound-only ways and got a Border Collie/Australian Shepherd/Chow mix puppy. We wanted a "working pet"
and someone offered us the puppy so we went for it. Gleann turned out to be not only the center of our pack, joining us shortly before we lost Irony, but also the most talented and devoted Ritual dog, ever.  He was with us for just over 15 years, which was still too short a time, passing on October 18, 2019. You can click on his photo or name to meet Gleann.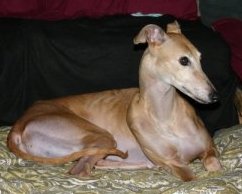 After the loss of Irony and then Bran, and other losses in our life, we finally were able to adopt another Greyhound on November 25, 2009. We couldn't handle knowing we were going to lose Scolaighe without some new life in our house. Our pack coloration also diversified again with the addition of Òrlaith, a lovely fawn girl. She's yet another bounced "loser" who has fit right in very quickly. She left us  Feb. 22,  2014.
After we lost Scolaighe, we started thinking about adding to our pack again. So January 27, 2010, Aaron and Òrlaith went on down to GPS and picked up a loser buddy of hers, now known as Cù Mór. So we are back to three.  Sadly, he left us in July, 2013.
The debate as to whether we can deal with more than three canines, of course, gets intervened when a friend notes that a dog is in need of a home. Sometimes the dog that comes your way isn't what you have in mind, but that doesn't mean he's not perfect. This was the case when a friend of a friend was looking for a home for 10 year old Sachairi, who happily joined our pack on Black Friday, 2010.  We lost him on Feb. 6, 2016.
After losing Cù, we were down to one hound, Òrlaith, along with the fluffy dogs and cat.  Due to her tendency to stress over pack changes, even good ones, we decided to wait and when she passed we were houndless for the first time since that fateful day in 1998.  It took us a few months, but we finally felt ready and when we were, so was Gráinne, who came to live with us on July 22, 2014. She lost her battle with cancer on March 2, 2017 at only 7 years old.
For several months Gleann had the difficult job of being an only dog for the first time in his life. We wanted to adopt again, but our finances were devastated by the vet bills we had. We were hoping for sometime this fall or winter when, just as we came home with our second cat (see below) we were offered a hound who turned out to be Gráinne's half-brother. There was no way we could say "no" to that so on Sept. 7, 2017 Aaron drove down to GPS in Dover and picked up Cairbre!
While Gleann and Cairbre bonded, we knew that Gleann always was closest to the female hounds.
As he continued to decline over the year since we got Cairbre, we hoped to get another female hound when we could. As we were a bit more specific in what we wanted we waited until we had stabilized our finances a bit and, of course, when we were ready there were no girls available. So we were referred to the Maine Greyhound Placement Service where we met Ruadhán on October 6, 2018 and brought her home.
In the beginning of May 2020 we decided we were interested in a hound we'd been seeing for a couple of months ago on posts on the GPSNH FB group. Due to the COVID-19 pandemic, vetting was slowed so it wasn't until June, 27 that we were able to get very people shy 2 year-old Trúghadh home.
The Pride

In 2011 we, surprisingly, ended up with a cat as well. He came from the same home as Sach almost exactly a year later, because the situation he had been in wasn't ideal. This is Merlin. We tried to change his name to something more Gaelic but it never took and now we know why as you can see below. We lost Merlin on August 25, 2022 to kidney failure.
The summer of 2017 we heard someone else we knew was moving overseas and looking for a home for their elderly black female cat named….Nimue.  Well with that name  it was obviously fated to be, so on August 31 we picked her up.
In part because we've been less active with hound activities, we don't update here that much. Instead we have The Beasts of Dùn Sgàthan Facebook page.
We also have a page of photos of  more than one together, which I try to update on occasion.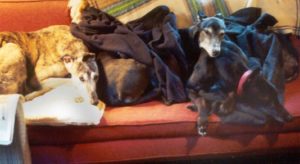 Contents and design, except where noted otherwise, copyright © 1998-2019 Aaron Miller and Saigh Kym Lambert