The Brindled Beta Bitch
July 8, 1993-August 18, 2004
We miss you, Princess!
Update August 2004
Saigh Kym had wanted to adopt a retired Greyhound for several years, deciding when losing her long time Heinz 57 companion, Gabrielle, that when she was ready to adopt again one of these beautiful, usually good-natured dogs so much in need of homes would be perfect (not wanting one that would remind her too much of her shaggy beloved beast). It took several years due to first not being ready, then with the problem of finding a rental that allowed dogs. This summer we moved to Rochester to just such a place.
When Kym started setting up the Pagan Coffee Talk website, she decided to include some Greyhound sites on the links page so that she could do something to help. As the end of our
lease was nearing, she also spent some time checking out possible adoption places nearby, including the Greyhound Placement Service. In the October list of dogs was included a female named Irony described as a dark brindle. The name stuck out and was remembered…although it was impossible that this would be a possibility because it would be months before the move. And even when the new list was up in March and Irony was still there and included the picture here, we still hadn't found a place although we were past our lease and renting by the month. Somehow seeing the picture confirmed she was our dog, but it was impossible that she'd still be there. As we found the place and checked the list again, updated in May, Irony's inclusion seemed a mistake, there was no way she could still there.
When we finally were able to call Michele to make an appointment, Kym didn't mention Irony. It seemed impossible she'd still be there over 6 months later (oh, how naive we were). And it seemed foolish to want a particular dog based solely on a name and photo. When we arrived, we again didn't ask…Saigh Kym figured that after looking at a few, she might mention her. We noted only that we would prefer a female and Michele went into the kennel. When the first one she brought out got to the
door window, Saigh Kym recognized her from the photo and Michele walked out saying "This is Irony." It was instant love. Even though we walked two others, everyone knew it was Irony we'd be coming back to get a couple of days later. It turns out that Irony had even been adopted out once, but returned because she was very nervous around the couple's child. Many people had met her, but she was still waiting for us to come and get her.
The day, June 18, '98, we picked Irony had hoped for a quiet first night at home to help her adjust. As we didn't want to have to leave her alone at that point, Aaron went out later that day to get more stuff for her. Unfortunately he was in a car accident, breaking his jaw and requiring surgery. Irony spent the night in her crate, alone, with Aaron's mother and sister stopping by to walk her on their way from the hospital and his mom on her way back the next morning, while Kym spent the night trying to sleep in waiting rooms at the hospital while Aaron was in surgery and recovery. Kym returned to the house for a few hours the next day to feed, walk, and play with Irony before returning to the hospital and later bringing Aaron home.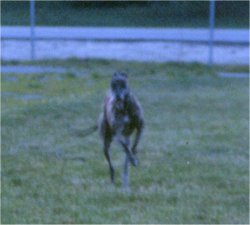 In amongst this crisis, there was the fact that Aaron and Saigh Kym were still finishing up the move from their old apartment, so the house was in general disarray. Through all this Irony managed to bond with her new people —once Aaron was able to come downstairs (she still wouldn't attempt them). —and generally learn how to be a pet. For the most part anyway. She loves her walks and attracts attention in our new neighborhood (we've met more folks here in two weeks than the two years we lived in our old place), has become less focused on trying to chase the neighborhood cats (although the stair thing is still considered a fortunate obstacle as her high prey drive means never being able to trust her with our rats), and sleeps most of the rest of the time….with short bursts of play, tossing her toys (and sometimes our stuff) about the living room. The discovery, which required a long process of testing, of the bean bag chair absolutely changed her life….until then she'd angst every time Kym went upstairs (this was before Aaron made his way back down), once the comfort of the bean bag was realized she usually quietly watches our movements from her space. On occasion the bean bag requires much flipping and pouncing upon to meet the required comfort level.
———–
Updated Oct 7, 98
While at Saigh Kym's parent's for a visit, Irony discovered the couch in an attempt to see what was going on outside. Quickly losing interest in what was going on as she discovered this
thing was SOFT, she translated this discovery to interest in our couch at home. The beanbag is still in use, after all the Alphas get first dibs on the couch.
On Lùnasda we discovered Irony, indeed does fit in well with our life. As we knew we were having a small turn out for Lùnasda, we decided to forgo the haul to Odiorne Point Park in Portsmouth and hold it in our back yard (our neighbors irresponsibility regarding picking up after their own dog may force us to not try this again –and avoid the yard for our duration here). Irony celebrated with us, lying quietly next to Aaron or I depending on who was busy and when the Blessing was passed around shared with us…happily (which I had some question of as the Blessing was berries,
but like Gabe, it turns out Irony loves berries).
We took Irony to the Annual Greyhound Festival hosted by GPS and she had a great time hanging out with other Greyhounds….we did refrain from entering her in any of the contests and Kym helped out at the catalog table. Irony was well recognized by all the volunteers at the kennel, who were happy to see her finally have a home….it's hard for them to watch the ones that are hard to place get repeatedly rejected.
The last event of the day was a lure coursing demo, we decided to give it a try, wanting to see how she'd like it. Well, she went nuts for it! This is what these dogs have been raised for centuries to do….well, the plastic bag "bunnies" are a bit different from the old days but they don't seem to notice. She went towards the end, and was so pleased with herself afterward. We are now looking into competing her for a couple of years, we're in research mode at the moment so expect to see some lure coursing information here in the near future.
Update March '99
This past winter Irony taught herself how to climb the stairs (while we weren't home of course, trashing our bedroom altars in the process but fortunately ignoring the rats. The bedroom has become one of her favorite places, the bed the ultimate of course……but she is allowed on it only when only one of us is in it, she just takes up too much room. So now the house is hers…..she races up and down the stairs as if they were never an issue.
Irony is adapting well to her role as foster mother for Bran. She had been known for a rather dominant personality, so she seemed overly laid back with him at first, and let him steal toys and get in her way. However, at some point she seemed to realize he wasn't going to go away no matter how much she ignored him, so when he next got in her face, she let him know her displeasure. As he was becoming a real brat at that time, the change in his attitude was amazing. Now things have settled with Irony well established as next in rank after the human alphas.
We got Irony's pet transfer signed by her racing owner, who was really wonderful and gave us all her racing records and her pedigree: Greys Irony (her registered name) is the daughter of Iron Rail* (grandson of Downing …1984 Greyhound Hall of Famer) and Bahama Sugar (daughter of Dutch Bahama …1990 Greyhound Hall of Famer). Of all our hounds, she, the only one without a Gaelic name, is the only one with close Irish relations..Iron Rail* is an Irish hound. Irony's pedigree
————————————-
Update Dec. 99
Well, as the secular year is almost over it's time to play catch up. We had a busy Spring and Summer, a quieter Fall and Winter (so far).
We took both hounds to a Lure Coursing event sponsored by GONE in the Spring and ran them in the practice runs following the event. Irony was hyped up the whole time, she obsessed over the "bunny" and wanted to go. When she got a chance, she caught it! Um, they're not supposed to do that. And IT caught HER…….she got tangled in the line, at the far end of the field. When she was released the lure was rerouted to go directly back and she was right behind it. She had some cuts, but didn't seem to bad off, but the next day she had some bruises and was lame. We HOPED it was all because of getting caught, but we had been warned she might have a reoccurring shoulder problem. And after the bruised ankle started healing, the fact she was sore in the shoulder was more apparent and took longer to heal. We got a new (old, had been our rat vet before we moved out here) and also took her to a chiropractor.
We had looked so forward to taking them to Irish Festivals and Highland Games over the summer. Unfortunately, all the ones we went to that allowed dogs all these years changed their policies and banned them this year (and, of course, none that had already banned them had decided to allow them). We did get to one Highland Games that wasn't changing until next year and we had a great time, hanging out with some Irish Wolfhounds who were standing in for Deerhounds in the "Scottish dog breed" tent. Irony had her foot all bandaged, as she had cut it, but got along fine. They got a lot of attention and ate it up. Irony seems a little relaxed around small children as long as they are not too noisy.
With her foot and shoulder seeming fine, we took them to another lure coursing event and entered Irony to start competing. She did her first run, fast as ever, and came up lame. In the left shoulder (it had been the right one the time before). We walked her out and massaged her, but she had to be scratched from her second run. She still wanted to chase though……I'm afraid this hound would keep running with a broken leg if there was "prey" in front of her. When we go home, her left shoulder seemed fine, but her right was sore for about two days….leading us to become even more sure that it's actually her upper back between her shoulders that the problem lies. Lure coursing isn't going to be an option.
This fall we went to the GPS Greyhound Festival, of course. The hounds had a wonderful time meeting other hounds, sniffing butts, and begging treats. We ran them both in the demo, which was comparable to Large Gazehound Racing Association, a short, straight sprint. Last hope for old Iron Head's "retirement career" and she blasted up the field wining by quite a distance. And showed NO sign of lameness afterwards! So hopefully, while we can't lure course her, we can LGRA her at least this year, so she doesn't lose out on chasing "bunnies" all together yet. For pictures from the Festival check this link out.
———————————–
Updated Dec 28, 2000
It's been now over a year since I updated the hound's pages. And a busy year it has been.
The rest of last winter was quiet, winter often is for the hounds. But as soon as the snow was melting from the ball fields we were out getting the Brindle Beasts in shape for LGRA. We got out the lure pole, unfortunately Irony has learned how to anticipate where it was going so it ended up taking some work to get her actually run after it. We made a couple of LGRA events, Irony competed, but in both got pulled from after her second run….one due to her shoulder and the other due to a torn toenail. We're there for fun, not to wreck our hounds. She happily saw her chiropractor after the first one.
We all ended up involved in a local ( Barony of Stonemarche ) SCA event in June as well. I had originally contacted someone about whether there was SCA lure coursing in the area for a demo for an event I hoped to host (which never panned out). A few months later I got contacted by the same woman asking me for help in getting something together for their Midsummer event. The GONE had an event at the same time, so they were unable to be involved, but I got on the SCA coursing list and asked for help and the woman working on getting coursing in the East Kingdom again contacted us and she ran the coursing. The hounds, Aaron and I were joined by another GPS family with two Greyhounds to do a "meet & greet" in garb. The event was great, despite ending up in a location that was probably not prime and a VERY violent but brief storm. Due to the storm we didn't run when planned, but the next day did. As it was a shorter than regulation course, with no zig-zags Irony had no problem with it and we hope to become more involved in this in the future as a place to run our hounds and promote adoption.
We never did get to anymore events this past year, either GONE or SCA. We decided to move and started house hunting which took up a lot of time on the weekends. Even after we decided to move to my parent's property we still didn't have any chance, as we needed to clean the new house.
On one trip up, Irony had a bit of an adventure with Kym's mother's cat. We thought the cat had figured out she should stay upstairs (open plank stairs that the hounds don't attempt —although if Irony actually saw the cat go up them she might), but she decided to come down and headed down the hall to my parent's room. Both hounds chased her down the hall and all would probably have been fine if the door hadn't gotten closed! She found herself trapped in the hall with no where to go and Irony got a hold of her. We got there to find the cat wrapped around Irony's face, Irony's jaws around her ribs! Kym grabbed Irony, Aaron stuck his hand down her throat and got her to let go. The cat was fine, a bit bruised around the ribs and very traumatized (she got lots of comforting). Irony was a bit scratched up, but seemed fine…that she kept both eyes was rather lucky. HOWEVER, her foot started to swell….at first we thought she had
sprained or broken a toe, but it turned out that the cat had managed to get a claw in between the toes where we didn't see and she got badly infected. So "she caught the cat and the cat won."
Of course, she hasn't learned a thing from this and is still coveting those "long tailed bunnies." There are other cats that live in the shop and outdoors (this is a farm after all) who she watches often from the windows (or did, the cats don't really venture outside the shop/barn once the snow falls). We are hoping that the fences we will build for them in the spring will actually hold her!
The move had been very stressful for her, her only actual home with a family was being torn apart. She stressed as we took stuff out, almost ate the baby gate we needed to put her behind, and cried a lot. Once here she has settled in well however. She has decided we are staying and seems happy with the two couches and the "live entertainment" outside the windows. She seems happy, alternately terrorizing and snuggling Bran, playing and being her intense, gorgeous, wonderful Princess self.
For new information and pictures go to our pack together
Updated July 2004
Irony has been very ill for several weeks now. She has ascites, that is fluid in her abdomen. Blood work showed she had some liver things going on, but we were told that wouldn't cause this. We had many more tests done, anything that wouldn't cause too much distress (in other words, no exploratory surgeries!) with no new information. Finally we were told that, well, the first blood tests DID explain this after all.
Her liver stopped producing albumin, causing the fluid from her blood to leak out and cause the ascites. They said that there is no hope, that plasma transfusions would help for a few days at a time but they have no resources to do that nor do we have that sort of funds. BUT…
I had been working to alleviate the problems from this with the help of Four Paws, Five Directions: A Guide to Chinese Medicine for Cats and Dogs by Cheryl Schwartz, DVM. I have found that the acupressure for the liver stuff that might be related (the book has nothing on this specifically) have helped with the weakness and stiffness in her hind end (which the book notes is related). And then, web surfing on this, I found indications that cordyceps might get the liver to produce albumin again! So she is on it. It's only been a few days, so it's way too soon to tell, but we are hopeful.
Through this she has never appeared to feel sick, other than when her belly got so full it was uncomfortable. We have twice had her drained out as much as possible. She lost a little weight because this also causes the liver to generally be able to process proteins for her use…but have found that feeding her several times a day has helped. She is gaining weight. Who knows, maybe this is also a sign that the cordyceps is working?
We are not giving up, there is no reason to while she is obviously feeling good. We will keep up the herbs and the acupressure and keep fighting this. All good thoughts and prayers are always welcome. Thank you!
Updated August 20, 2004
On August 18, 2004 at approximately 6 pm Irony passed from this world. Two days before her liver apparently stopped functioning at all, we waited to see if perhaps she was just having a bad day, but it was quickly clear that there would be no reversal. Apparently there was nothing that could be done. We do not know why her liver failed, none of the test ever were clear and we did not have a necroposy.
She is buried at our ritual site, on the West side facing West. As we do believe that she was Gabe reincarnated we believe she will also return to us. The time we must wait will be terribly lonely though. Bran and Scolaighe, especially Bran, miss her terribly. When she died we heard them whining in the house. Aaron brought them out to see the body and have closure. We then were standing in the driveway and a mottled (brindeled?) green dragonfly came and touched both hounds on the face and then flew off to the West.
For photos of Irony with the other pack members go to the pack together page
---
Contents and design, except where noted otherwise below, copyright © 1998-2004 Kym Lambert and Aaron Miller