Dogzilla or a dog named Dog

August 24, 2002-July 27, 2013
When hope is gone it's forever mourned
 Updated July 2013

With the loss of Scolaighe and mourning dogs, we decided it was time to add another to our pack,

especially as Òrlaith would find it difficult when we took Gleann out without her (which we do a lot as he goes off leash, helps with the animals and doesn't mind the cold so much). And it was obviously that she is a very pack oriented hound and needed more than just one dog around. So another note to Greyhound Placement Service and Aaron took her down with him on January 30, 2010 to bring home Onaim Dogzilla.The name fit, his racing weight was 71 lbs, but he has the presence of an even larger hound. In keeping with his race name, we named him Cù Mór (Big Hound in Gaelic); and to go with him usually having been called "Dog" we call him "Cù." He is another chow hound, like Bran was, although I do not get the impression that he was ever deprived like Bran had been. He just is obsessed with food for no real reason.

Cù was one of the boys that Aaron had met when he got 
Òrlaith, he seemed too rambunctious to deal with poor Scolaighe so he missed out that time. But he wouldn't have had the patience she had had.
According to Michele at GPS, Cù was part of Òrlaith's pack, the group of dogs she knew and went out with. So she seemed content but not overly worked up that he moved in. I think she just expects this sort of thing. Gleann was a bit put off having another boy in the house and is somewhat defensive, especially as Cù towers over him. However, as time passed they learned to deal with each other in the space and are now good brothers; they get along great, with occasional pushing and shoving. Especially for attention.
He's a big, happy goofy boy, but it might be hard for you all to tell as he apparently is terrified of cameras. Seriously. He was all happy ears and tail, then I got out the camera to capture this and ears and tail, and head, go down. You all will think he's miserable. Well, until I snuck a photo from across the room and cropped it down…getting full demon eyes and all.
As noted above, he's very insistent that he's starving. He apparently arrived at the kennel like that the first time, even ate a blanket which required surgery (he seems to have learned from that one, however). In his first home he was a relentless beggar and pest, supposedly, eventually started stealing food from the children. He couldn't be crated because "that was cruel" (he actually likes his crate, will go into it and lie down several times a day). He tried begging with us the first couple of days, but a simple "no" and not giving in stopped it quickly. Like all our dogs, he now can lie with his head in one of our laps while we eat (yes, we're barbarians, we almost never eat at the table) and our only danger is that if he's upside down he might try to 
"pat" us and knocked the food out of our hands. He does, however, still scrounge and counter surf, but that's a matter of not having anything for him to grab.
Cù has buffed up since arriving, he was rather soft and flabby when we got him, and we need more photos to show this. He started showing changes even before he was getting a lot of exercise right after we switched everyone to a no grain food and we think he might have a grain issue that affected his conditioning and made him retain water to look flabbier. Of course, now he goes running with us nearly every morning, along with Òrlaith and Gleann. Still, I always said that hounds put on muscle by sleeping on couches, wish it worked for me. LOL
He's playful, and especially motivated by bunny toys.
July 2013
We're so bad about updating these pages now, we talk so much about our pups on Facebook instead.  And life is kind of quiet these days with the dogs. As they aged we stopped talking Cù and Òrlaith on our runs as they showed some signs of lameness and instead took them on slower walks.   Even shorter ones in the winter, where we let them decide when to return.  Being Greyhounds, w
inter is more a time for extra snuggling. And he was always a very snuggly hound, a 70 lb lap dog, often lying with his legs in the air and his head on who ever was available.  He had developed some arthritis in his left foreleg awhile ago. This spring he started showing some weakness in his hind legs.
Then in of May, shortly after our Bealtuinne celebration, he started to fall as his hind legs gave out. The beginning of June he couldn't walk.  It appeared to be caused by arthritis in his back. Bouyed by various hopeful tales of mobility assisted dogs, we decided to try to help him walk as well as he could again.  He was eating and snuggling, the only struggle was that he was a big dog needing help to move. But as long as he was happy we'd do what we could.  His hind legs actually showed strength and movement, just not enough strength.  To some extent his lack of using them seemed to be fear and distrust that they could support him. His left foreleg, however, soon was unusable. Therefore we were going
 to get him two walking harnesses, one to support his hind end and one to give even more to his front end. Meanwhile we spoiled him rotten with various food items and kept him medicated in case of pain (Greyhound people know, pain is always a question with them, for they tend to hide it stoically, he showed no real pain but …). 
In late July he got an opportunistic infection which we had hoped would be a temporary set back.  However, he didn't respond to treating it, became uninterested in food and we realized it was, indeed, a sign his body was no up to the fight anymore.  At this point it was clear he was no longer happy….eating is a big sign in any Greyhound and he was a big eater for a Greyhound.  On July 27, 2013 we said our good-byes.
Through the years, Cù showed himself to be goofy and elegant all at once.  A big time snuggler who seemed a bit confused by his large body, making us think he might have been house raised as a puppy and associated snuggling in a puppy-size body.  He's greatly missed. I have written more about losing him on our blog.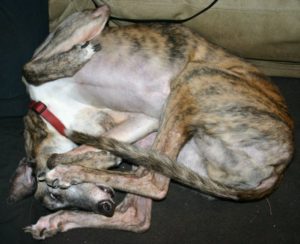 Contents and design, except where noted otherwise below, copyright © 1998-2010 Saigh Kym Lambert and Aaron Miller