Big Little Brother
After losing Gráinne we were again houndless, but this time Gleann was an only dog, which was a first for him and obviously was rather stressful for him. We planned to adopt again, but our finances were wiped out by the vet bills and we were not sure our hearts needed some healing.

As we traveled to go pick up Nimue, our unexpected cat on August 31 we were discussing when we might get another dog. We had decided that it would hopefully be within less than two months, maybe even as early as a month. Well, so much for plans. After getting Nimue settled into her temporary room, I got on Facebook and about the first post I saw was on the Greyhound Placement Services NHFB group that she was getting 10 new dogs in from and there was one return. I discussed the return, Crowd Control, with the kennel manager, Michele and we were considering him.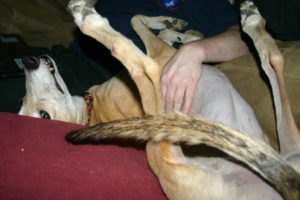 Then I went and looked him up on The Greyhound Data Base and realized he was Gráinne's half-brother. Done deal! It also lead to him being named for one of the legendary Gráinne's brothers. He is also the first hound we've adopted who had a ton of baggage….not the metaphorical kind but actual stuff… toys, jackets….a big box of stuff.
Within a few days Cairbre settled in quickly. Some separation anxiety which remains an issue a year later, hopefully eased by his new sister Ruadhán as they bond more. But when he relaxes, he relaxes. He does not share his sister's aversion to couches and beds.
Updated Jan 2019:
Cairbre also doesn't share the aversion to water that most of our hounds have had, in fact, when it's hot out he'll pull towards the pond. We will likely get him a wading pool this coming summer.
He is a super cuddler, he lives to snuggle. Well, and food but… At nearly 80 lbs he makes for a huge "baby" who thinks he's tiny, no sense at all of his body mass. He'll even snuggle G
leann in a heart-beat, Gleann was nervous at first but now seems to take it in stride. On Jan. 19th Cairbre and Ruadhan had what I hope is the first of many head to head snuggles, too.
Although he does love snuggling, he's also been a great running partner for me. He matches pace with me well. Although in cooler months he does appreciate a coat more than many, as he has rather pronounced alopecia. And is just a big baby at heart.
---
Contents and design, except where noted otherwise below, copyright © 1998-2019 Saigh Kym Lambert and Aaron Miller